Skip to Content
Professional Pest Control Services in Rhode Island
How We Keep Your Home Pest-Free
Pest Patrol Inc is a team of expert technicians who are trained and certified to provide the Rhode Island area with pest control services. We are a family-owned and operated business and have been serving Rhode Island since 1996. Our expert pest & wildlife management services include insect management, humane wildlife removal, and much more. If you have an unwanted guest in your home or on your property, call Pest Patrol Inc today!
Our team at Pest Patrol Inc prioritizes providing our clients with safety and comfort. We provide services for many pests, such as insects, deer, birds, beavers, bats, and more. We also provide extermination and prevention services. For a pest free home that stays pest free, contact us.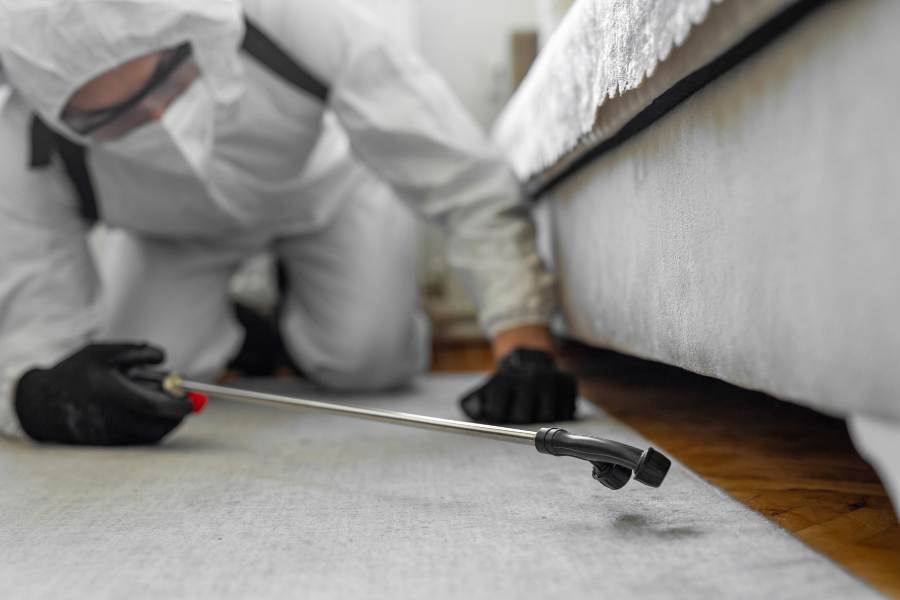 Pest Extermination
Pest extermination is one of our specialties. We use integrated pest management to provide you with thorough elimination of the pests in your home. Pest control safety is one of our top priorities. You and your home will be protected, as our experts use a targeted approach.
Pest Prevention
In addition to extermination, we offer pest prevention. While this method takes specialized knowledge of what to do to prevent infestations, when you hire our services, we will provide you with tips on how to prevent a pest problem or infestation. We also provide methods and products such as barriers and repellents.
Pest Management
Pest management combines both pest prevention and pest extermination. Our integrated pest management solutions allow us to serve those who have dealt with pest infestations in the past as well as those who live in an area with a high rate of pest infestations. Our management solutions utilize pest monitoring; we will monitor your property and the effectiveness of our treatments to make sure your pest problem doesn't return.
Our Certified & Experienced Professionals
Pest control takes a lot of knowledge and experience, and that's why the base of our pest control method is our team of incredible professionals. Our team members are all certified and have been recognized for their excellent service. For professionals that will efficiently identify the problem and provide you with a thorough solution, give Pest Patrol Inc a call.
Integrated Pest Management
Integrated pest management (IPM) is an effective and safe method of pest control that uses several methods to provide you with thorough commercial and residential pest control. Our experts approach each situation with a fresh set of eyes, looking for the best way to treat that property. We are knowledgeable in how to inspect and assess your home for pest infestations.  When you hire our services, we rid your home of the pests and eliminate the cause of the infestation. Our integrated pest management will be customized for your home. We'll provide you with quick, actionable recommendations to reduce the pest population as well as provide conventional methods of pest inspection and elimination.
Insulation & Fecal Remediation
Many pests are attracted to attics, or crawlspaces, or sometimes even the walls. Pests and wildlife such as mice, rats, bats, squirrels, birds, and raccoons love the warm soft padding of the insulation in your home. These pests will use the insulation to build nests, reducing the protection that insulation provides. Worst of all, when you have critters and pests living in your insulation, they leave behind fecal matter and urine. This is when these pests turn from an annoyance to an actual hazard. When your insulation is filled with animal droppings, bacteria, parasites, and viruses are spread, and the air quality of your home decreases. Our team at Pest Patrol Inc can restore your home to its former glory, without pests and fecal matter. We provide proper cleaning and extermination services as well as insulation restoration and cleanout services.
Inspections & Consultations
Our team offers thorough inspection and consultations. When you call us, we can provide you with a free inspection and a quote. During this inspection, we'll assess the issue and how far the infestation has progressed. Additionally, we offer 24-hour emergency wildlife removal. Our 24/7 emergency services are here for you when you need them the most.
Contact Pest Patrol Inc
When you choose Pest Patrol Inc for your pest control needs, you choose a company that cares for your safety and comfort. We provide you with thorough, fast, affordable, quality services. Our comprehensive pest control services include:
Contact our team today to schedule a consultation.
Get in Touch with Our Team!