Skip to Content
Termite & Other Insect Management
Eliminate Termites on Your Property with Pest Patrol Inc
Termite infestations can be a disaster for home and business owners alike. These pests can cause significant damage to the structure of your Rhode Island home, and thereby be a threat to the safety of you and your family. If you suspect your property is infested with termites or another insect, Pest Patrol Inc is here for you. We have years of experience in the pest control industry, and taking care of insect infestations is second nature to us. Even if you're unsure of whether you have termites or not, our team can put your fears to rest or come up with a solution.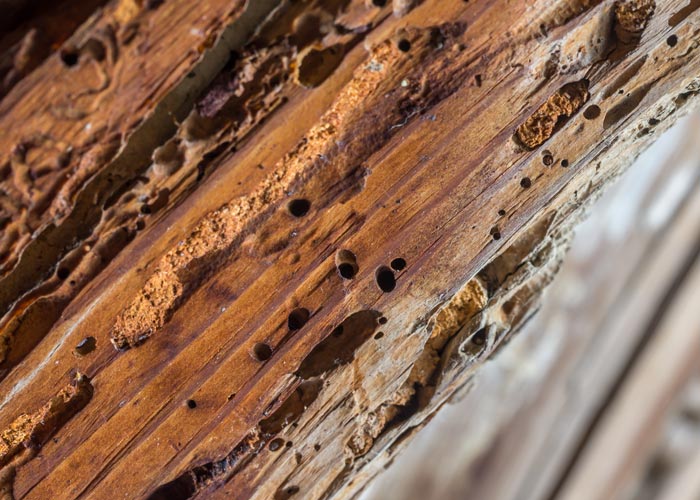 Recognizing Signs of a Termite Infestation
Unfortunately, many property owners don't recognize a termite or insect infestation until the damage has already been done. However, discerning homeowners will be able to identify certain signs of the pests before the damage becomes too much to handle. Look for discolored areas in your walls or peeling paint resembling water damage. Small holes in drywall or walls that sound hollow when tapped might also indicate termites. Your floors may show telltale signs as well. Be sure to check for buckling in wood floors, loosening tiles, or squeaky floorboards and report them to Pest Patrol Inc as soon as possible.
Help with Preventing an Infestation
At this point, you may be thinking preventing an insect infestation seems a lot easier than eliminating one. Luckily, you can take several steps to ensure your home or business isn't as attractive to termites looking to take up residence. If you're still in the construction phase of your property, be sure to use a concrete foundation with a ventilation space between the structure and the ground beneath. Then, take care to seal any exposed wood or cover it with metal. However, we're not all in the middle of a construction project. You can prevent termite and insects in your all-ready built structure by maintaining your gutters, filling cracks in the foundation, addressing leaks right away, ensuring vents are clear, and keeping wood storage away from your home.
Here for Rhode Island Home and Business Owners
Sometimes you can't avoid a termite infestation. Either you've already noticed the signs, or you've tried all the home remedies for an infestation. When all else fails, Pest Patrol Inc is here for you. Our reputation for world-class customer service proceeds us, and you can count on top-notch services when it comes to termite infestations and more.
Get in Touch with Our Team!