Skip to Content
Carpenter Ant Solutions in Rhode Island
A Team of Pest Control Experts You Can Trust
Our team at Pest Patrol Inc is family-owned and operated. We have been serving Rhode Island since 1996 and have continued to grow our reputation and skill for providing expert pest & wildlife management. Our services are comprehensive and include several essential services, such as humane wildlife removal, deer prevention, and carpenter ant extermination. If you are experiencing an unwanted guest in your home or on your property, contact our team to start the eviction process. Pest Patrol Inc staff members are all certified and experienced in managing even the most stubborn and dangerous pests. Get your safety and comfort back today with our services.
Pest Control for Carpenter Ants in Rhode Island
Carpenter ants are a common and damaging pest to have in your home. A carpenter ant infestation can even lead to structural damage to your home. At Pest Patrol Inc, we offer top quality carpenter ant treatment for our community in Rhode Island. Our methods are thorough and effective while also being safe for your family, pets, and environmentally conscious.
Contact our team to get a free quote and to get started with treatment. When we treat your home, we will first conduct a thorough inspection, documenting hot spots of carpenter ants and how large the infestation has grown. After inspection, we will get to work eliminating and controlling the infestation. Trust our certified pest control experts to restore your home and eliminate the risk of structural damage.
Signs of Carpenter Ants Damage
Carpenter ants are notorious for causing extreme amounts of damage. Because they're attracted to moist and damp wood, our location on the coast attracts many infestations. During the spring as the weather gets warmer and moisture fills the air, carpenter ants usually venture out. This is a good time to inspect any wood around or in your home for signs of these uninvited guests. Carpenter ants leave unique tracks and patterns in wood that they've infested.
Check for rotting wood at the foundation of your home, porches, windowsills, and roof rafters for signs of an infestation. If you notice a carpenter ant or any unique trails or tunnels in your wood that look like they were made with sandpaper, you can bet that a colony has made a home on your property. Contact our team at Pest Patrol Inc right away.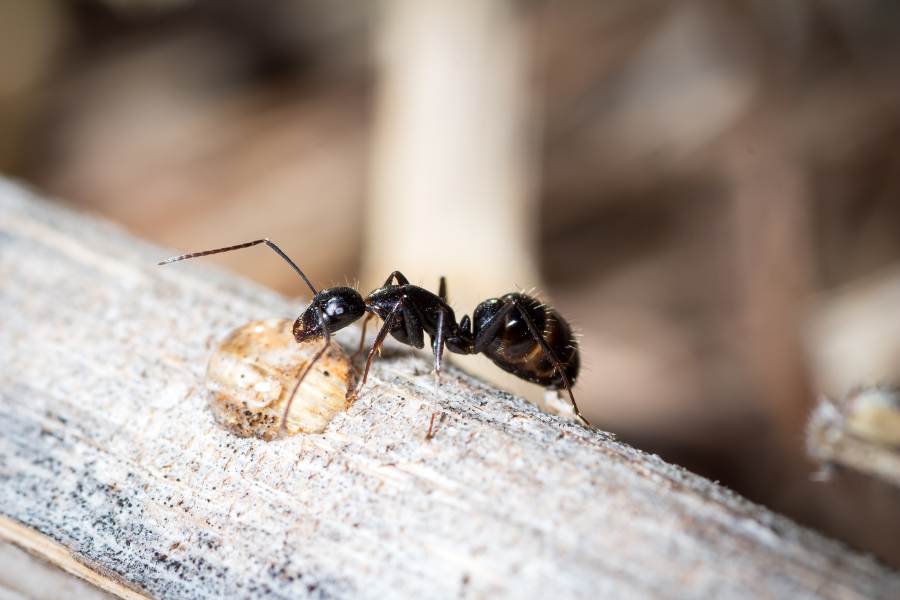 Carpenter Ant Treatment
When you hire our team of carpenter ant exterminators, you can trust that we will eradicate the problem as quickly and efficiently as possible. Our treatment process goes beyond applying products. While insecticide might kill off some of the worker ants, the problem will remain. The nest must be treated. Without treating the nest, the queen will quickly replace the worker ants with more and the damage will continue. Our process at Pest Patrol Inc is as follows:
Locate the Colony: By locating the main colony, we know where to aim our efforts and products. Often, the colony will be in your yard in a tree stump or a fallen tree. The colony then sends out satellite colonies into your home looking for moisture, such as both current or past leaks.
Bait Treatment: Bait treatment is a very common method of carpenter ant treatment, as it uses the ants' natural functions to help eliminate the colonies. Bait is placed near hot spots where the ants are located. The foraging ants then bring this bait back to the colonies. This will help to eradicate any colonies that are hard to locate.
Spot Treatment: During our continuing treatment, our team will spot-treat any remaining carpenter ants and we will clean any ants or nest material from your home and property.
Damage Repair: Lastly, we will provide you with the best repair recommendation. The repair team will assess the level of damage to your home and provide a repair estimate.
Safety for Family and Pets
At Pest Patrol Inc, our number one priority is providing your family with safety and comfort. We use the least toxic pest control methods and products available. We also practice a targeted approach when applying these methods and products to ensure the safest environment.
Every one of our team members at Pest Patrol Inc is certified and trained. We will never apply more product than needed. With targeted application, you and your family can rest easy knowing that the process of ridding your home of pests will do no damage to you, your family members, or your pets.
Prevention Tips
How can you prevent a colony of carpenter ants from making a home on your property? Our team has some expert tips that will help you to keep your home safe:
Do not store firewood directly on the ground or near the home. Keep it raised on bricks or other non-organic materials.
Eliminate any possible entry points around your home. Caulk cracks and crevices around pipes or in the foundation that could provide easy access for pests.
Fix water leaks and eliminate standing water near your home.
Wipe down counters and vacuum floors to remove any access to food that could attract ants.
Call Pest Patrol Inc for Carpenter Ant Pest Control
When you call Pest Patrol Inc, you can rely on thorough, affordable service. In addition to our carpenter ant removal services, we also provide:
Contact our team today to set up a consultation or check out our services page for more information.
Get in Touch with Our Team!