Skip to Content
Indoor Rodent Control in Johnston, RI
Quality, Fast Indoor Rodent Control You Can Trust
An indoor rodent problem can quickly get out of hand. Even if you think you know how to get rid of rodents in your home, you risk the rodents causing significant damage or breeding in your home before they're gone. At Pest Patrol, we're a family-owned and operated pest and wildlife control company that has been providing quality, fast indoor rodent control in Johnston, RI, and throughout Rhode Island since 1996. We specialize in humane, environmentally conscious pest and animal solutions with a focus on customer connections and personalized, customizable services. Call us today to schedule a consultation for indoor rodent control services.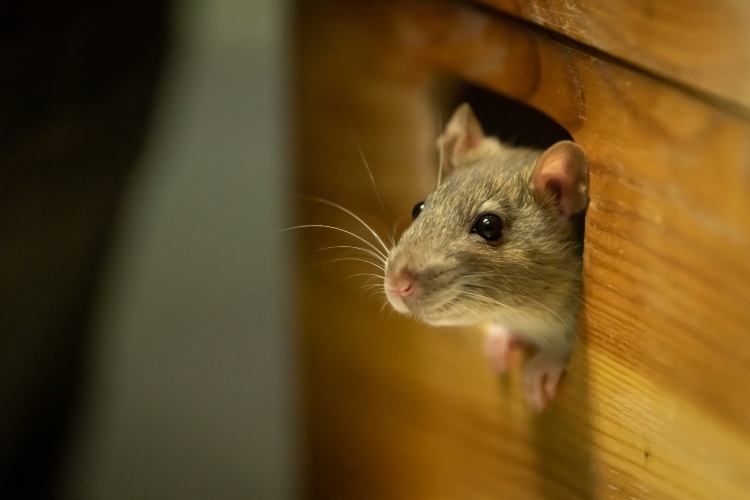 Signs of a Rodent Infestation in Rhode Island
Being aware of the early warning signs of a rodent infestation in Rhode Island will reduce your risk of property damage and health and safety issues. Our team of rodent control specialists works quickly to assess the problem, identify the biggest problem areas, and design a comprehensive treatment plan. Call us today if you notice any of these signs of an indoor rat or mouse infestation:
Dark brown, gray, or white droppings on the floor or in drawers, cabinets, and behind furniture or plumbing
Damage to paper, plastic, clothing, fabrics, or cardboard that indicates a rodent is gathering materials for a nest
An ammonia smell
A dead animal smell
A musty or foul odor
Signs of bite marks or gnawed corners on cardboard boxes, food packages, or elsewhere
Rodent nests inside closets, cabinets, or cupboards or in your utility room, basement, or attic
Chewed or damaged insulation or wires
Electrical or wiring issues
Strange behavior from your pets
Common Types of Rodents in Rhode Island
In addition to rats and mice, Rhode Island is home to a variety of outdoor and indoor rodents. Our team has extensive training and experience evaluating, treating, and preventing all types of rodent infestations. The most common types of rodents in the state are:
Brown rats
Norway rats, aka street rats or sewer rats
Roof rats
Chipmunks
House mice
Pocket mice
Squirrels
Our Safe, Effective Rodent Control Plan
We specialize in safe, humane rodent and pest control services. Our goal is to completely eliminate your problem, prevent it from occurring again, and educate you on recognizing and preventing pest problems. We want you to feel safe and comfortable in your home again, and we want to eradicate your risk of disease or illness spread by rodents. When you schedule an appointment with our specialists, we will begin with a thorough pest inspection of the interior and exterior of your home. We will identify the problem, locate its source, and give you complete details on our findings. We will then design a comprehensive rodent control plan designed to deal with the existing pests and prevent new ones from getting in. We also provide animal and rodent damage repair. We will then schedule follow-up or maintenance services that will increase your protection from rodents.
Follow Our Indoor Rodent Prevention Tips
While you can't always prevent indoor rodents, you can significantly reduce your risk of a rodent infestation and discourage rodents from invading your home. Your primary goals with rodent prevention are eliminating their entryways into your home and making sure they don't have access to food and water. Follow our tips for keeping rodents out of your home:
Identify and seal up any entry points that rodents could use to get into your home. Keep in mind that rats and mice can squeeze through tiny holes, cracks, and gaps.
Keep your home's exterior clean, and don't let leaves, trash, mulch, or wood pile up around your home.
Keep attic and basement areas clean and avoid creating dark areas where rodents can hide or nest.
Take your trash out regularly and keep your trash bins about 20 feet from your home.
Keep packaged food tightly sealed or in plastic containers.
Don't set up bird feeders or feed wildlife.
Why Choose Pest Patrol in Johnston, RI
At Pest Patrol, we put your family's safety at the forefront of every service we offer. Our goal is to take care of your pest problem quickly, without any further damage to your home or threats to your safety and comfort. Our friendly, experienced staff provides education and information about pest and animal prevention so that you can lower your chances of having another issue in the future. We are also committed to providing humane wildlife control services that are in the best interests of the animal without sacrificing your safety or the comfort of your home. Our office is in Johnston, RI, but we provide animal and pest control solutions throughout Rhode Island. We maintain a strong focus on animal welfare, humane solutions, and environmental consciousness.
Schedule a Consultation for Indoor Rodent Control
Don't ignore your indoor rodent problem in Johnston, RI. Call us today or contact us online to schedule a consultation for rodent control services. We also offer outdoor rodent and wildlife control services, pest prevention services, insulation restoration, and animal and insect damage cleanup and repair. We offer humane animal and wildlife removal in accordance with state and federal regulations. With decades in the business, you can trust our team to get the job done quickly and safely.
Get in Touch with Our Team!